Besides a soccer ball, a pair of soccer cleats is a must-have equipment. I am going to help you point out what to look for when choosing the best soccer cleats for kids so that you can shop with a good knowledge of what to expect.
Soccer is the world's most popular sport and soccer cleats manufacturers are racing to get their share of the soccer footwear market.
Besides Adidas and Nike, other brands are emerging and boasting technological innovation in their products. Therefore it is totally understandable if you are confused and I am happy to help point out what to look for.
Shopping for soccer cleats for kids does not require you to be a rocket scientist.
---
---
Junior Soccer Stars is a participant in the Amazon Services LLC Associates Program, an affiliate advertising program designed to provide a means for this website to earn advertising fees by linking to Amazon.com and affiliated sites. For more information please read my affiliate disclosure.
---
What To Consider
First of all, the reasons for buying your kid's first soccer cleats should be safety and training. Soccer cleats protect your kid's entire feet from the impact of stepped on by other kids. Some cleats also protect the ankles from a sprain.
If your kid is seriously training and shows passion for soccer then maybe it's time you give him a boost by buying him or her a pair of soccer cleats.
Having crossed the line the next consideration is making sure the cleats are comfortable and it fits the position your kid is playing.
A goalie needs a different type of cleats and so are the defenders and forwards, or do they?
Comfortable soccer cleats do not cause blisters or any discomfort to your kid. It should fit snugly and does not weigh a ton. That boils down to the type of material it is made of as well. The cleats must also suit the position your kid is playing.
Lastly, there are 5 types of studs that fit the playing ground your kids will be playing on. If you fulfill these requirements then you will certainly buy the soccer cleats that best fit your kid.
To help you achieve this goal I have discussed below the type of cleats and their features.
---
3 Parts Of A Soccer Cleat
First of all let me point out that there are three parts of a soccer cleat, the upper side that covers on top and around the foot, the insole inside the cleat, and the outsole that is in contact with the ground.
These 3 parts are made of different materials.
Different brands strive to come up with the materials that can make their products superior to others. Nike and Adidas are the most popular brands but others are not far behind in terms of innovative soccer cleat materials.
All these competitors are aiming for their cleats to achieve the following results:
Lightweight
Durable
Thin
Excellent ball contact
Comfortable
Easy to move in
---
Materials Of The Upper Side
1. Kangaroo Leather Soccer Cleats
Leather is the traditional material used for the upper side of soccer cleats.
The common one is the kangaroo leather which is soft, comfortable and does not need to be broken in.
There are other leathers used such as cowhide and full-grain but they are stiff as compared to the kangaroo leather.
Leather cleats provide superior quality both in comfort on the player's feel when interacting with the ball.
It is the preferred material by professional players and it is no surprise that they are expensive as well.
Leather shoes are designed for peak performance only and are normally reserved for matches and not for training.
Also, they are not waterproof and durable as compared to other materials.
2. Synthetic Soccer Cleats
Synthetic leather is a man-made leather that simulates the real leather properties but they are waterproof, durable, and breathable.
They are also lighter, easy to clean, and do not require a break-in.
The downside is that they do not provide much feel on ball contact as natural leather material
Having said that they are cheaper than leather and perfect for training and also for a soccer match.
3. Other Soccer Cleats Materials
One latest material is the Knitted upper. As the name suggested the material is knitted to produce a highly textured surface for ball contact and add more traction and control when kicking the ball.
This material is lightweight and waterproof and also a good option for training and for the soccer match.
---
The Insole and Midsole
The insole is the removable cushion that a player steps on when wearing the cleats. It plays a very important role in minimizing injuries or overpronation such as knee and hip pain and lower back pain.
Ensure the insole supports your kid's type of feet whether flat or arched footed. Insoles improve a player's agility, balance, and ability to excel. It technically acts as a shock absorber. If you are not satisfied with the one that comes with the cleat you can replace it with a better one.
The mid-sole is the part that sits between the insole and the sole-plate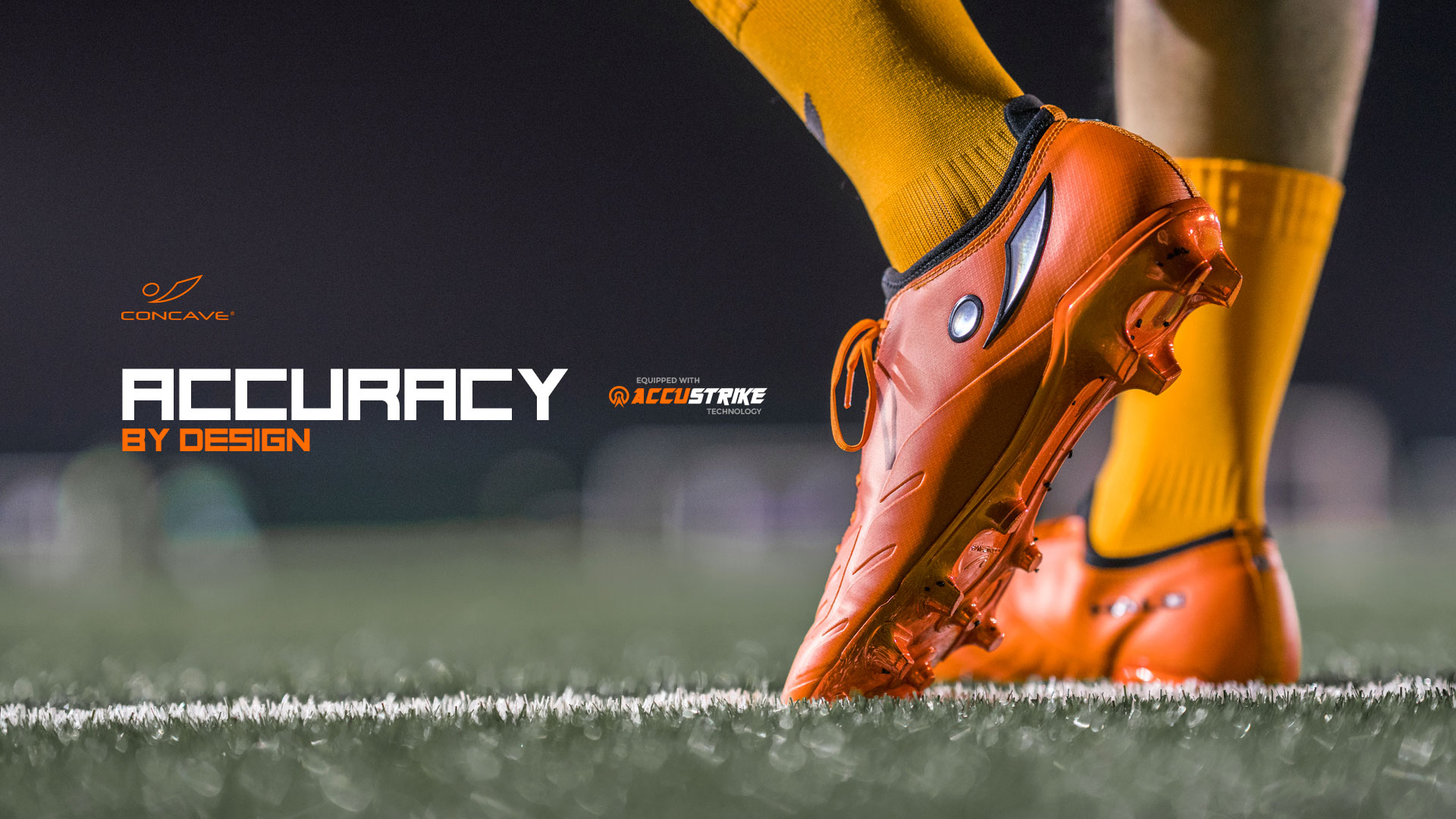 ---
The Out-sole
The outsole is the visible part under the cleats where the studs are. They are mostly made of thermoplastic polyurethane or TPU Outsole.
---
Soccer Cleats Profile
There are mainly two soccer cleats profiles and they are mid and low profiles.
Mid-profile cleats provide protection to the ankles but reduce movement. They are ideal for defenders who regularly tackle the ball and exposing their feet to injuries.
The low-profile cleats are best for strikers and wingers because they allow movement and speed.
---
Types Of Studs Of Soccer Cleats
1. Firm-ground (FG)
The firm ground studs are designed for grass fields but can also handle artificial grass (AG). They provide good traction on dry grass and have more than 10 studs with 4 at the back.
The blade studs do not provide as much flexibility and the conical ones. If you are unsure, FG cleats are your safest choice of boot type to buy because they are acceptable to play on any surface
2. Hard Ground (HG)
These are low profile shoes that have conical shaped studs spread out at the entire bottom of the shoe.
They are designed for rock hard surfaces because the studs do not sink in the ground but sit on it.
These kinds of studs are not ideal for firm ground soccer fields.
3. Indoor Studs
The indoor studs are intended for playing on indoor courts where the surface is hard and glossy.
They looked like your typical sneakers with no studs because the soles are made of durable rubber.
The rubber soles provide traction so that the player can run, turn, and kick the ball without slipping.
You can check out my post on 10 Best Indoor Soccer Shoes For Kids 2021
4. Soft Ground (SG)
These cleats have 6 studs only with 2 at the back and 4 at the front and they are designed for playing in a muddy field.
The cleats can be blade or conical but longer to provide traction to the player. Some studs are metal so you need to check with league rules as they are not allowed to be used on any other surface.
5. Turf (AG)
The studs for turfgrass or artificial grass (AG) are a highly concentrated number of elevated patterns to allow traction. They are not effective on any other surface
---
Molded Vs Detachable Studs
There are two options when it comes to studs. One is mold to the sole of the cleat and the other is detachable.
With molded studs, you are limited to the type of playing surface while the detachable studs give allow you to change the studs to fit the playing surface.
It is a cheaper option than buying extra soccer cleats.
---
Player Position Shoes
1. Striker
The striker's role is to score goals, therefore, the cleats need to have a clean strike zone to connect with the ball. The strike zone is on the upper front part of the shoe.
A good insole is also important for the feet.
Concave has uses the Accustrike technology to modify the lace area of their cleats to aid in kicking accuracy.
2. Midfielder
The midfielder is a player that runs up and down the field, therefore, he or she need shoes that don't irritate feet due to a lot of running.
The insoles also need to be comfortable to absorb the impact of running in the field.
3. Defense
The defender needs a durable cleat that can withstand tackling the ball and support the player when twisting, turning, stop, and run.
The cleat needs to have a tough outsole with a large strike zone to clear the ball.
4. Goalie
Have you ever seen a goalie firing a dud goal kick? The ball went wrong and end up with the opponent.
The traction and large strike zone is an important component of soccer cleats for a goalkeeper. It needs to support the back and forth movement of the goalie.
---
Conclusion
For kids under 10 years old and still in the learning phase, the best choice is the Firm Ground (FG) low-profile cleats with a good insole.
The 10+ studs will provide good balance and flexibility.
Older kids are starting to play in position roles and that's when you have to consider other factors highlighted above.
If not sure the golden rule is to start with Firm Ground (FG) cleats and build from there.
Check Out 10 Best Soccer Cleats For Kids 2020
Image Sources
Photo by Halacious on Unsplash
Photo by Retha Ferguson from Pexels